It's Monday morning in the office. Lisa dives in the growing pile of papers on her desk. "Good morning! How was your weekend?" Her serious look gives way to a warm smile welcoming whoever comes in the office. Bills, invoices, statements… With three climbing gyms and a factory, there's a whole lot of paperwork to account for. Three climbing gyms, a factory and a whole lot of humans united by their passion for climbing. 20-year-old-Lisa wonders how 40-year-old-Lisa managed to get there…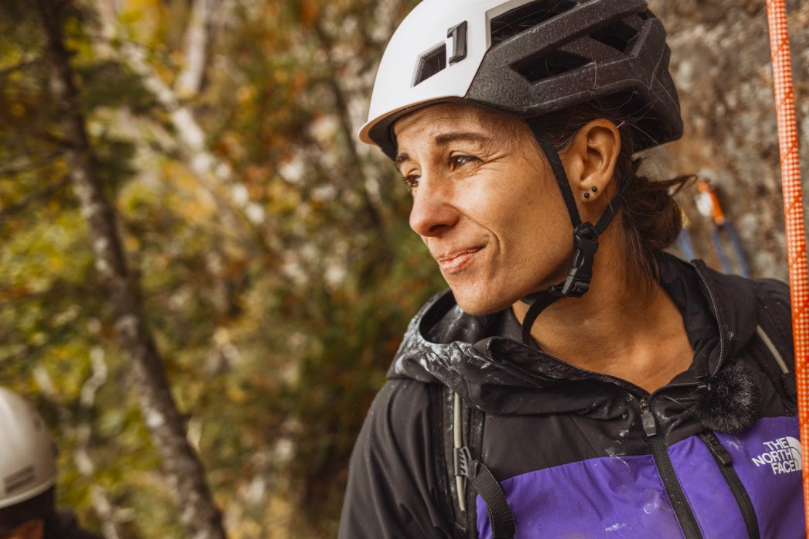 This story, as inspiring as it is, seems quite unlikely. This is the story of her journey, starting as a teenager growing up in a village, becoming a woman entrepreneur, an athlete, a mother, a lover. Any "normal" human being would be whole and happy wearing only one of those hats… Not Lisa. Her passions are all over the place, defining herself and her emotions. 
 Lisa moves in the city of Québec just before her twenties. She makes her way as best she can, wandering with no precise goal. She surfs on the city vibe, taking the rough with the smooth, following its ups and downs.
 One day, a small, innocuous offer changes her life. "My boyfriend at the time took me rock climbing." She soon fell under the spell of this universe, of this sport that appeals to all our senses and consciousness. In her dizzying fall, she found the one who would catch hundreds of falls to come: Jeff.
 They quickly become "Jeff and Lisa". No one, including them, would have guessed what life had in store for the duo. They only knew for sure that whatever was awaiting them, they would be in it together. "When I met Jeff, a whole world opened up to me. I had never travelled before, I hadn't even thought about it."
They start dreaming about the next climbing trip, the next project on which they would lay their hands. Their good friend Vincent is never far away, always there to share those dreams and projects. In their apartment in Québec, Jeff resoles dozens of used climbing shoes while Lisa's brain is racing with ideas. Counting, planning, projecting… There's not a single detail Lisa misses. She wants to climb. She wants to inspire others to climb. To challenge themselves, and find their passion. One step at a time, Lisa wants to make a living from it.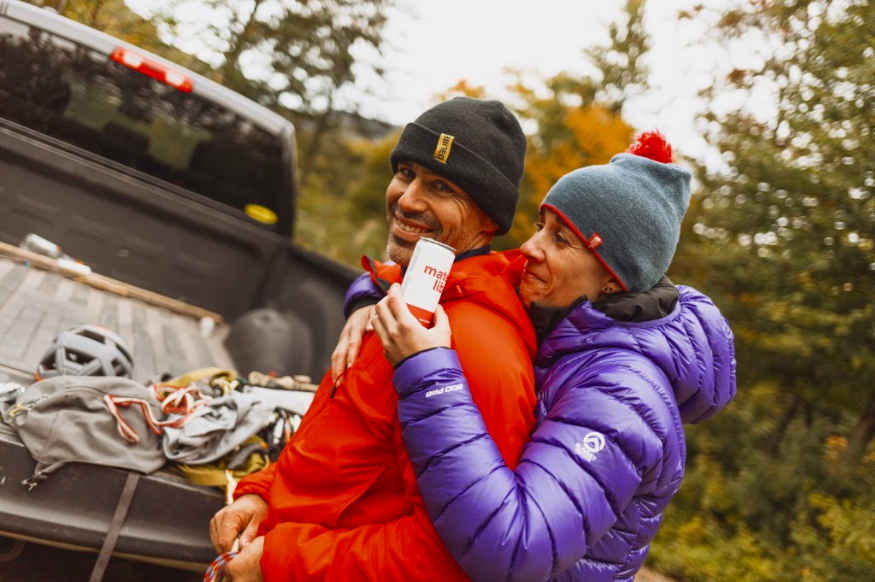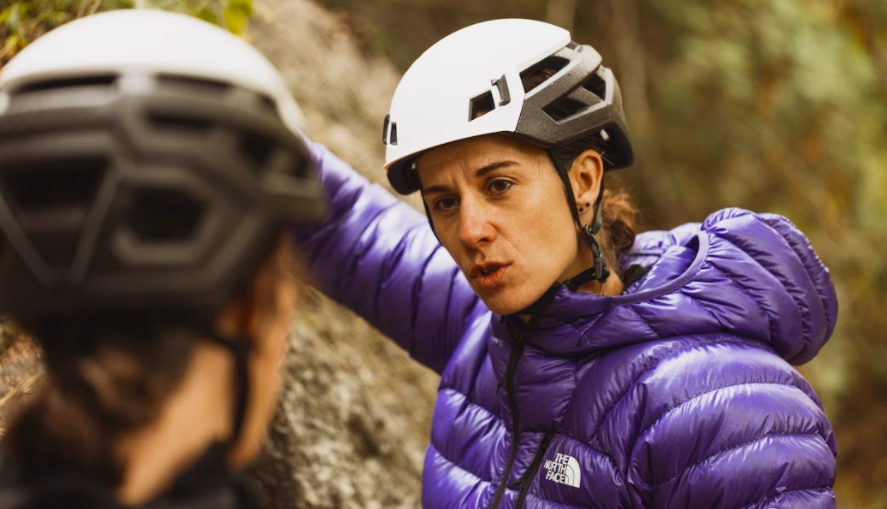 They first start to manufacture climbing holds. Soon enough, they are loaded with orders… in their homemade apartment factory. With new projects come new facilities. Then come more projects. More holds. Then volumes. And then… climbing walls.
"There was nowhere to climb indoors that suited us in Québec, so we thought … why not build our own space?"
At first, it was a tiny bouldering space to enjoy with their friends. They could finally climb all year long, in their own little spot. Little did they know that DÉLIRE Climbing Walls would become one of the industry leaders in Canada.
One thing leading to another, their small cave turned into their dream of a rope climbing gym. Full of motivation but still lacking the means, they decide to give a try at building it themselves. That's when Vincent comes in to complete the entrepreneurial trio. In the former cinema of a shopping centre, DÉLIRE Beauport was born. Thanks to a handful of people who believed in the project, the go-to for local climbers was now reality. Inspired by the great overhanging routes of the United States, the famous blue wall still stands, inevitably impressing every newcomer. The rest is history…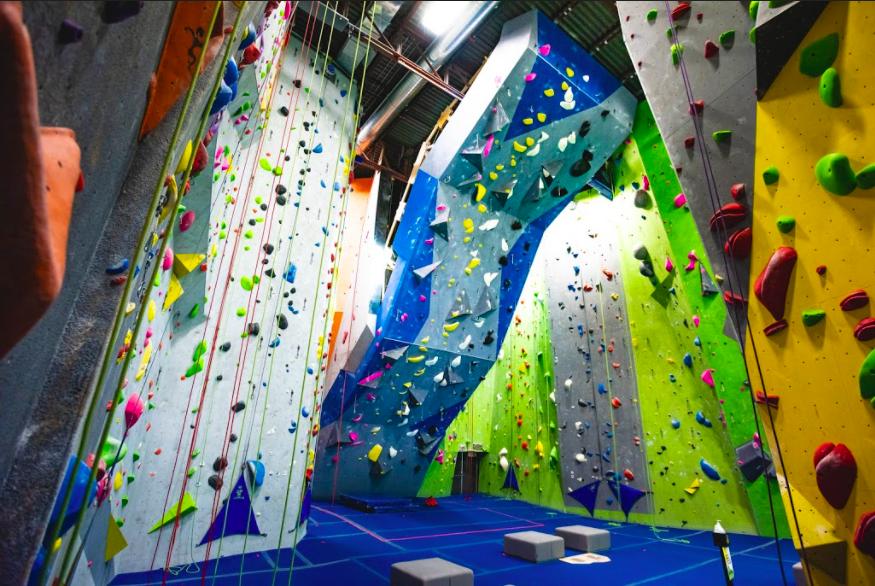 Lisa starts to add up major projects and stands out as a women entrepreneur and as a climbing figure. She proves her natural talent in this sport from the very beginning and wins a Coupe Québec title in 2015. "The competition was not as fierce as today…" she likes to say every time she's asked about this event. At the dawn of her 40s, she still has big climbing plans on her list, with the well-known Peste blanche in Portneuf. "It's one of my favourite crag. I used to want to travel and explore the world all the time, but now I really enjoy the precious spots we have right here, at home."
 With her enthusiasm, her kindness, her pride to be a French speaker in a world dominated by Anglophones, Lisa embodies Québec so well. And she has no desire to leave it. That's where her children are growing up, that's where she makes the climbing community grow, in her own way. By building gyms. By inspiring a generation of women to push their limits, both in business and in sports. By believing in those who cross her path. Lisa likes to remind us that the most important thing is to meet people, just like the ones who gave her the hand she needed. Lisa profoundly believes in people and their possibilities. She sees potential even in those who find none.
Twenty years have passed since Lisa's first contact with rock. Although her passion has changed, it's now a defining part of herself. Just like an old friend, it will never let her down. She sometimes gets tired of having it around, she sometimes tries to walk away from it, but she always comes back to it. "Climbing has saved me." Climbing save people from those demons that lurk within them. Demons of sadness, of destruction.
"I think it's important to find what we're passionate about and keeps us alive. You can do things the right way, but without the fire, it's never the same."
 And today? The days of homemade climbing holds seem long gone. But is it, really? When one sees Lisa's humbleness, they might wonder if she's aware of what she represents to those who cross her path. When you see her at the gym or at the crag, just look behind her managerial glasses, and you will find the kindly gaze of a generous, warmhearted woman.
Subscribe to our newsletter