The story behind the climbing wall manufacturer and owner of five climbing gyms
Once upon a time, someone had the crazy idea of an indoor climbing wall.
This isn't a traditional story. It all started with a common passion, from which DÉLIRE was born, and it's evolving in ways we could have never dreamed. The core of this never ending story, and the one thing that gets us going everyday: Getting more people climbing!
Read more about Lisa Lajoie (co-owner)
Watch the video about Lisa (co-owner)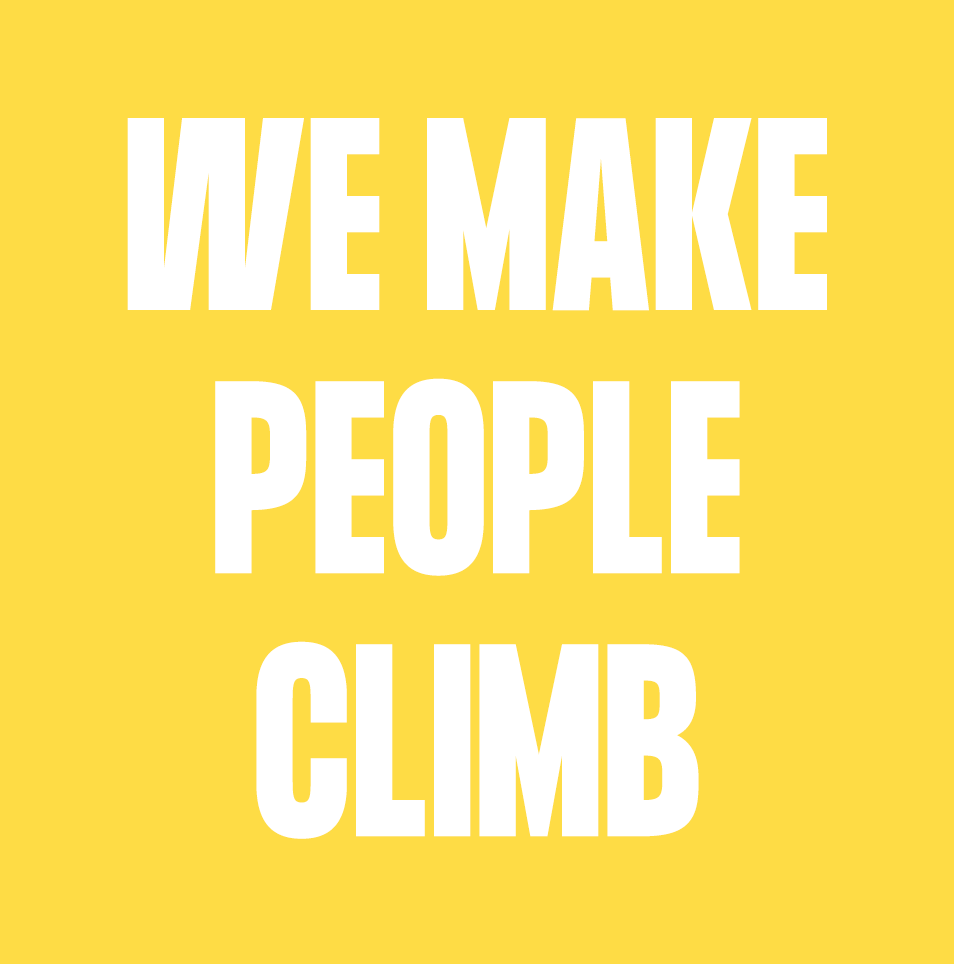 In the early 2000s, Jean-François Beaulieu and Lisa Lajoie began producing climbing holds in their 5 1/2 on Lambert Street in Quebec City. They were far from suspecting what awaited them. Their first goal through the years: climbing and sharing their passion for climbing. For that, they needed to complete their trio with a high caliber striker. That's how Vincent Légaré joined them to walk the path that would lead to the birth of what you know today as DÉLIRE Escalade.
Twenty years later, DÉLIRE is proud to offer five climbing centers to the Quebec City climbing community, in addition to having created dozens of projects for other gyms across Canada.
We have come a long way since the opening of the first climbing center in Beauport. Between building climbing walls and opening two bouldering branches in Sainte-Foy and Pierre-Bertrand, the three associates are far from having quenched their thirst to share their passion for climbing. This is what pushed them to open the DÉLIRE Parc, the first outdoor bouldering site in Quebec City. Their ambition for Quebec City still not reached, they open a fifth branch in Levis in 2023.
Even if the company is the Canadian leader in the climbing industry thanks to the quality of its walls, its routes and the atmosphere it creates in its gyms, the pride of Vincent, Lisa and Jean-François lies rather in sharing their passion. In 20 years, they have seen the number of climbers in Quebec City increase dramatically. We like to think that DELIRE has something to do with it.
Rain or shine, this indoor activity is the perfect addition to your daily routine. Climbing is for everyone. We're waiting for you.
Combining its 2 divisions, DÉLIRE has:
Some might say DÉLIRE's success comes from the high quality of its infrastructures and services, but we believe we owe it to the smiles of our enthusiastic staff welcoming you every day and to their pride in bringing your vision to life.
At the core of each and every project is the knowledge that we are creating a vessel for an organic experience full of life.  Being able to flawlessly transfer our design into not just a building, but a place where experiences happen, is what gets us going and motivates us each morning.
Welcome home, welcome to Délire.
Subscribe to our newsletter